A complementary and ecological alternative
In recent years, Marina Services SARL has acquired a new service to offer motorboat owners an alternative solution to the lack of space afloat : the dry port.
The dry port is a complement to the floating marina but also and above all as a real alternative to the construction of new infrastructure that is too heavy.
The dry port has many advantages, both for boat owners and fot the community.
Indeed, not requiring new maritime infrastructure, dry port services make it possible to keep our coastline in good condition.

Depending on its technical design, the dry port concept can be adapted to different types of boat use (leisure fishing, outing with familly or friends, etc..) and therefore different styles of navigation. Asharp decrease in the application of toxic anti-fouling paint makes the concept very environmentally friendly.
Boat owners will therefore find a solution to their needs combining practical, economic and environmental aspect.
The dry port of Marina Taina offers several dry space rental options :
- Option 1 : Rental of a dry place with 4 non-cumulative handling / month
- Option 2 : Rental of a dry place with 8 non-cumulative handling / month
- Option 3 : Rental of a dry place without handling
For more information, send an email to the captaincy at : marinataina@mail.pf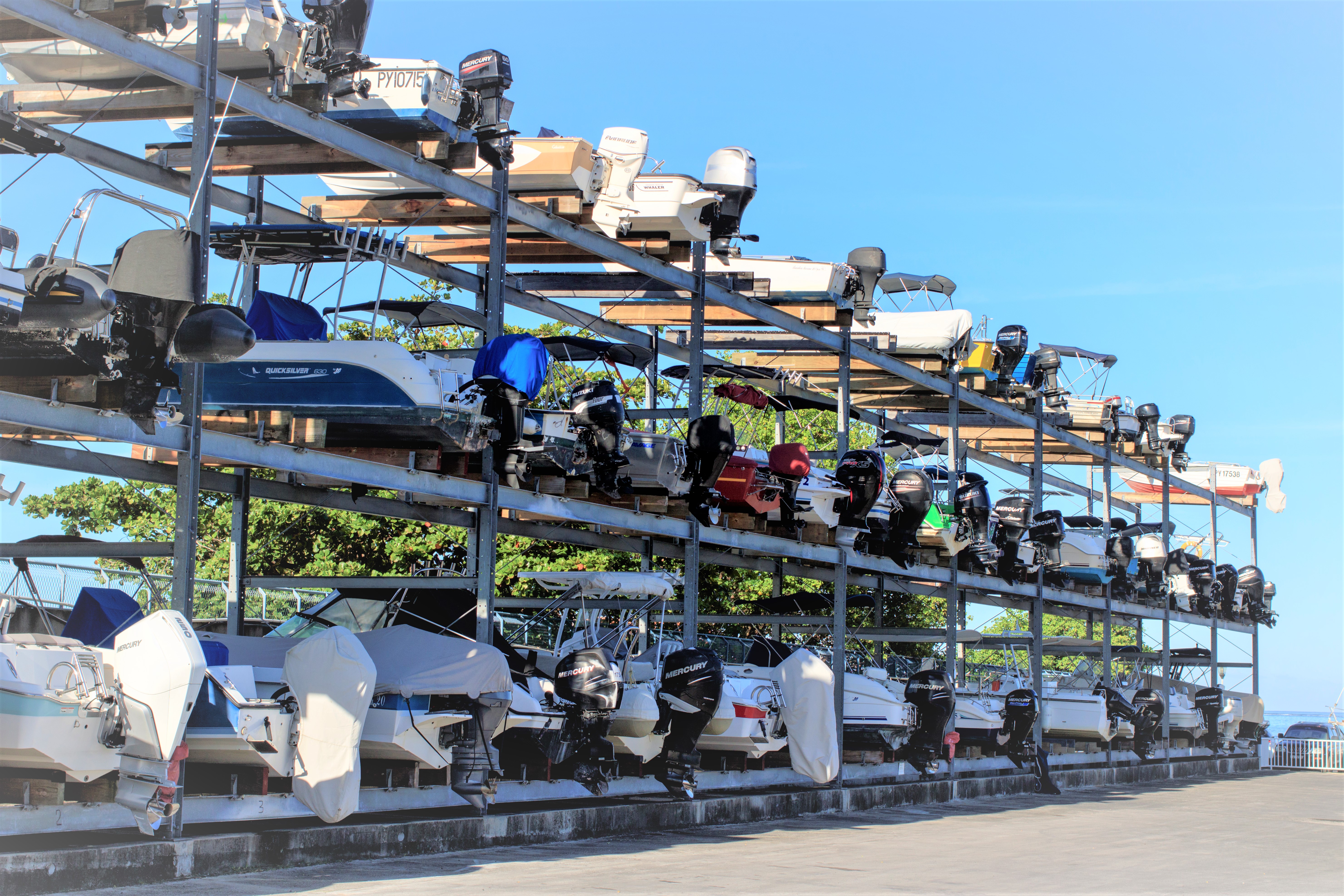 Technical Area
Ecology and environment
Nautical activities having an impact on the environment and the lagoon. The use of boats, which are increasingly numerous, contribute to degrading the quality of port waters, and more broadly coastal waters.
Anxious to preserve this fragile environment, the Marina Taina through our dry port is part of the sustainable development approach.
All washing water and runoff from the technical area is covered in a tank for treatment and recycling. The device is equiped with a system for separating all suspended waste, hydrocarbons, which will be recovered by a specialized company. The treated water is then reinjected into the washing circuit of the boats. The minimal waterloss is met by a nearby rainwater collector : water autonomy is ensured, thus contributing to sustainable development.